THE LEADING FRENCH FINTECH IN SPLIT PAYMENTS
Alma's specific innovation is that it finances the debt and takes charge of managing unpaid invoices, thus ensuring that the retailers are not adversely affected by their customers' use of deferred payment options or the risk of nonpayment.
Description
When he was working at Stripe, Louis Chatriot noticed that there were no providers offering solutions for small e-commerce businesses to make the option of installment payments available to their customers.
He thus decided to create Alma in 2017, a platform allowing customers to pay for their purchases in three installments to be implemented on e-commerce websites as well as in brick-and-mortar stores.
AN ALTERNATIVE TO CONSUMER LOANS
The start-up estimates that small e-commerce players account for 40% of the revenue generated by French retailers and is thus focusing its efforts on micro-businesses and SMEs. Alma offers a sound and effective alternative to traditional consumer loans, because the start-up's model is unlike that of financial institutions, which enter into transactions directly with consumers and do not protect cash flow for merchants.
The retailers become service providers for their customers, who are looking for an experience similar to that offered by the major e-commerce websites, particularly in terms of flexibility. In addition, installment payments help retailers grow their customer base and boost loyalty, while increasing their average order value, by giving customers the possibility to spread their expenses over time.
Apart from split payment solutions, Alma plans to offer an expanded range of services to support retailers in all aspects of their relations with customers. Both e-commerce and traditional retailers are in need of services that can help make exchanges more fluid.
EURAZEO, A LONG-STANDING PARTNER FOR ALMA
Currently the leading provider of split payment solutions in France, Alma raised €3 million in its first round of funding in February 2019, with the support of Eurazeo's Venture team. Intended to fuel growth for the start-up, in particular by expanding its range of services, but also by hiring additional staff, this funding was in line with the strategy at the time, aimed in the initial stage at gaining a strong foothold in the large and growing French market, with more than 600,000 retailers of all sizes.
The fintech then raised €12.5 million in March 2020, still with Eurazeo at its side, also securing a further €17 million in debt financing. This second round of funding sought to provide Alma with the means to perfect its solution and its customer experience while developing new projects. At the same time, the start-up began entering into partnerships with the main e-commerce solutions powering online stores so as to be included in their options. The bet paid off, because the platform was adopted by many brands, including Kusmi Tea, Kookai and KitchenAid. In 2020, Alma thus achieved a sixfold increase in customers and transactions generated.
The €49 million funding round in January 2021 marked a turning point for Alma. With the support and advice of Eurazeo's Venture team, the fintech began the roll-out of its buy now, pay later (BNPL) solution, for a market estimated at €20 billion in Europe. This additional option is fully in line with changes in consumer shopping habits, underscored by the successive lockdowns. The new split payment solution is offered to all retailers, thus for online as well as physical stores.
With Pay Later, Alma provides retailers with an easily implemented tool to boost sales of their inventory items as well as customer loyalty, thanks to this new short-term financing arrangement, and to restore their cash position with a guarantee of full payment at the moment of purchase, since Alma makes payment of the entirety of the purchase amount immediately to the retailer. For consumers, Pay Later offers the benefit of full transparency, without any hidden costs, and the possibility to manage their budget by scheduling payment at the time of the order to be debited after 15 or 30 days and only if they keep the items purchased.
A FUTURE UNICORN SETTING ITS SIGHTS ON EUROPE
Given that the global fintech market is valued today at €1.5 trillion and could reach €2.9 trillion by 2030, and in the face of growing competition from other fintechs in Europe, Alma decided to ramp up its international operations in 2021. Backed by Eurazeo's expertise and solid international network, the fintech wants to gain ground in the markets of its European neighbors Germany, Italy, Spain and Belgium by gradually setting up local teams in these countries and leveraging its expertise in customer satisfaction.
Alma is a responsible split payment solution provider, by not charging any fees for late payments, for example.
Most recently, the record €210 million funding round closed in February 2022 is enabling Alma to pursue its European expansion by moving into new markets, particularly in the Netherlands, Luxembourg, Portugal, Ireland and Austria, and by launching a major recruitment campaign to hire 250 new employees. In addition, Alma is continuing to enrich its product range, with the launch of a mobile app for consumers to be used for payments to any retailer, as well as the expanded availability of split payment systems, with payment terminals in brick-and-mortar stores.
Chiffres Titre

In figures
Chiffres Description
Over €1 billion in transactions processed each year
€180 million in equity financing and more than €100 million in debt financing raised
Present in five countries, over 260 employees serving more than 6,000 retailers
Image
Image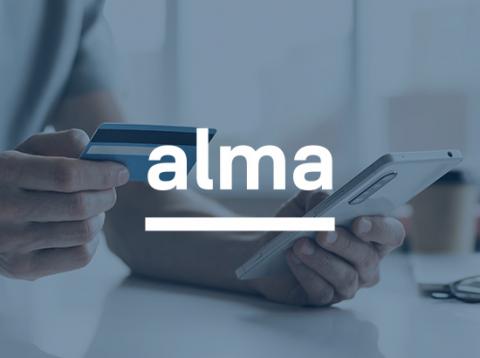 Informations
Platform for paying in several installments