Blocs de la page
The annual shareholders'meeting of Eurazeo will be held
on Wednesday 26 April, 2023 at 10 a.m
at Pavillon Gabriel, 5 avenue Gabriel - 75008 Paris
We remind you that Eurazeo will broadcast its Shareholders' Meeting in full, live and recorded.
The Executive Board reminds you that shareholders may choose one of the following methods of participation :
Participate physically at the Meeting,
Vote by post or by Internet,
Give a proxy to the Chairman of the Shareholders' Meeting, or
Give a proxy to any individual or legal entity of their choice.
To attend the General Meeting in person, vote by mail or by Internet, or give a proxy to any individual or legal entity of your choice, you must provide proof of your status as a shareholder no later than two business days before the meeting, i.e. Monday, April 24, 2023.
The shares must be registered :
For shareholders holding registered shares, in the registered share accounts held for Eurazeo by Uptevia, its agent.
For shareholders holding bearer shares, in the securities accounts of their bank or financial intermediary. Registration will be evidenced by a certificate of participation issued by the bank or financial intermediary, including by electronic means. It must be attached to the shareholder's instructions (request for admission card, remote voting form or proxy).
Please note that, in accordance with current regulations, if you have already cast your vote by mail, sent a proxy or requested an admission card or a certificate of participation to attend the Meeting, you may not choose another method of participation.
The VOTACCESS website will be open from Friday April 7, 2023 to carry out the various procedures described in the table below. Voting by Internet before the General Meeting via VOTACCESS will be possible until the day before and until 3 p.m., i.e. Tuesday April 25, 2023. For security reasons, it is better not to wait until the last moment.  
The address of Uptevia, necessary for some of the procedures described in the table below, is as follows
Uptevia
CTS General Meetings
Grands Moulins de Pantin
9, rue du Débarcadère - 93761 Pantin Cedex.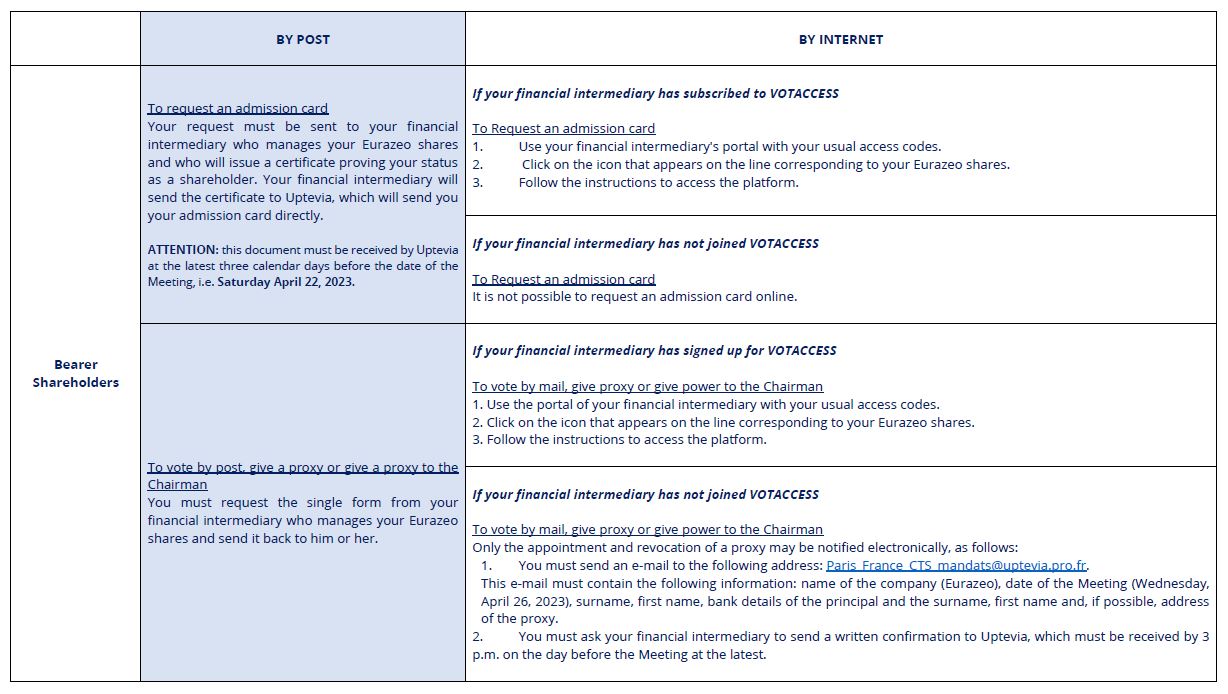 Alerte vigilance
Tentatives de fraude et d'usurpation d'identité