THE CIRCULAR FASHION GIANT
Vestiaire Collective set out to disrupt consumption habits in 2009. It is the brainchild of its founders, Sophie Hersan and Fanny Moizant, it nudges members to look through their closet and sell any fashion and luxury items they no longer wear, and has blazed new trails in the circular economy and sustainable fashion in the process.
Description
To build consumer trust, Vestiaire Collective's teams check that the articles traded on the platform are genuine before they reach buyers. The business model is economical, ecological and has made the platform one of the founders of circular fashion.
EURAZEO SUPPORTS VESTIAIRE COLLECTIVE'S INTERNATIONAL EXPANSION
Alongside other investors, Eurazeo's Venture team provided funding in July 2013 then took part in the rounds that followed, with the Growth team from 2015 onward. This put Vestiaire Collective in a position to consolidate its leadership in Europe and fast-track its growth in the United States. Two years later, Eurazeo stepped up its support to help the platform break into Asia—notably Singapore, China, Korea and Japan—and Australia.
AN ICONIC FRENCH TECH UNICORN
With its international network and expertise in the luxury segment and brands, Eurazeo backed the founding team's long-term industrial vision and fueled the platform's rocketing growth. In 2018, Eurazeo enlisted former Lazada CEO Maximilian Bittner to strengthen the team and boost momentum.
After its two successive €178 million fundraisers in 2021, Vestiaire Collective has indisputably become one of the most emblematic French unicorns worldwide, and the first founded by women.
AN ECO-RESPONSIBLE MODEL CENTERED AROUND THE CUSTOMER EXPERIENCE
In accordance with its uncompromising standards and quest for excellence, Vestiaire Collective is constantly investing to treat platform users to one of the best e-commerce experiences on the market and to optimize and shorten logistics timeframes.
It was only natural that Vestiaire Collective—which became the first second-hand fashion platform to earn B Corp certification, in 2021—is active on every front to make fashion more responsible, in particular by reducing its carbon footprint (most of which comes from the logistics side). Its decision in 2020 to appoint a Chief Sustainability & Inclusion Officer ranks it among the most committed players in this field, which also enhancing the brand's appeal among consumers and future employees.
Chiffres Description
€356 million raised in 2021
2022 Vestiaire Collective acquires American company Tradesy
23 million members
5 million fashion items
Image
Image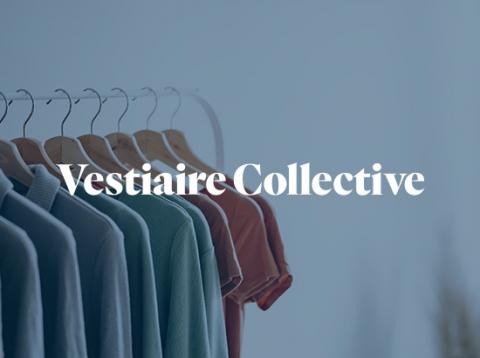 Société Titre

Vestiaire Collective
Informations
Online fashion marketplace for pre-owned premium clothes and accessories