A DTC SPECIALIST IN PREMIUM PET FOOD FOR DOGS AND CATS
Founded in 2013, Ultra Premium Direct is a pioneer and leading player in the French premium pet food market, aiming to democratize quality food for dogs and cats, by distributing its product at an attractive and fair price point through own e-commerce and subscription service.
Description
Ultra Premium Direct aims at improving pet health and well-being, thanks to a high-quality natural grain-free offer catering to pet carnivorous diet produced in its own R&D and production facility in Agen in South of France.
Benefiting from a large, engaged and loyal community, Ultra Premium Direct has managed to triple in size over the last two years. This reflects the success of its unique model, relying on a direct online distribution of natural and high-quality products, namely through subscription (representing than half of total sales) at an attractive and fair price. this strong growth has been driven by the strengthening and expansion of its product range, key recruitments, and sustained investments in digital and marketing, as well as the extension its production facility in Agen.
Eurazeo invested €68 million in Ultra Premium Direct in May 2021, becoming its majority shareholder. The goal is to support the company's growth by strengthening the brand equity and its community, while continuing to expand its product range, penetrating adjacent European markets, and investing further in the organization, digital platform and production capacity.
STRENGTHENING PRODUCTION TOOLAND DEVELOPING NEW DISTRIBUTION CHANNELS
With Eurazeo's support and in order to meet growing demand, Ultra Premium Direct has decided to expand and optimize its production facility. New investments realised this year have enabled to increase its production and storage capacity.
This will enable to meet the ever-increasing demand from customers. Ultra Premium Direct, which already relies on a base of 130,000 regular customers, including 65,000 subscribers, aims to continue expand this customer base in a total French market of €3.5 billion, including €600 million in online sales.
Wishing to become a more accessible brand, Ultra Premium Direct expects to develop new distribution channels to better address consumers 'expectations. Building on its factory outlet's success, the brand has opened its first store in Montauban and plans to open a second one by the end of 2022.
BRANCHING OUT INTO EUROPE
Ultra Premium Direct, which entered the French Tech Next 40/120 start-up ranking, is also starting penetrating adjacent European markets —notably Italy, one of the main European pet food markets.
Finally, this 110-employee company plans to continue strengthening its organization in order to support the next growth phase, especially outside its home market.
COMMUNICATION AND INFLUENCER MARKETING
Competing with pet food giants, Ultra Premium Direct plans to continue its acceleration by investing further in its digital brand platform, to increase brand awareness, optimize its acquisition strategy and enhance customers' shopping experience. The company is pursuing its longstanding communication strategy on television, while animating its community and leveraging its influencer marketing strategy – having built partnerships with several recognized and rising influencers, including Noholita (1 million Instagram followers).
Image
Image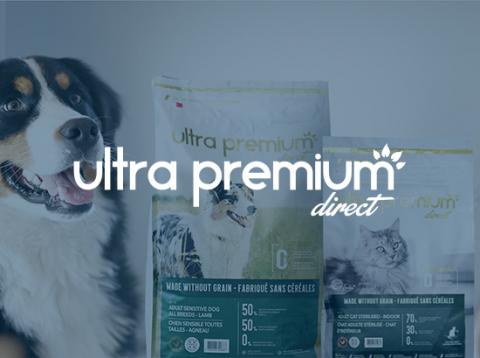 Société Titre

Ultra premium direct
Informations
French premium petfood DTC brand