THE PIONEER OF DIGITALIZED B2B PAYMENTS
Kolleno is a platform for digital transformation for the office of the CFO. Kolleno is trying to solve the way businesses get paid, remove struggles associated with chasing late invoices and help businesses flourish. With the help of Eurazeo, Kolleno is doing just that, and helping to transform the way that B2B payments are handled.
Description
THE LATE PAYMENTS CRISIS IS STALLING ECONOMIC GROWTH
Despite advancements in innovation and technology, we have witnessed financial teams still rely on manual tasks to perform credit control duties, particularly in B2B businesses. It takes an enormous amount of effort and time, and leads to an increase in the time between making a sale and getting payment.
Late payments are a bottleneck to SME survival across the globe. In the EU alone, 6 out of 10 B2B transactions are outside of payment terms. This rate is even higher for SMEs. Moreover, according to numerous studies, the UK is one of the worst-performing countries in Europe when it comes to late payments. On average, 50,000 businesses in the UK fail each year because of delayed payments.
KOLLENO IS A SOLUTION TO THIS PROBLEM
Our Venture team had been following the B2B payments ecosystem for quite some time. Surprisingly enough, in that domain, paper and offline remain the standard, leaving a vast addressable market for innovative startups.
The founders of Kolleno, Dimitri Raziev and Ron Danenberg, while working at different companies and sectors both witnessed how dramatic the impact of delinquent payments was on business performance. The idea of revolutionising credit control and accounts receivable management sparked in their minds. They had a clear vision of how to digitally transform credit control by automating and digitizing outdated legacy processes to save CFOs and their teams time, while also nurturing their working capital and client relationships.
VC FUNDING TO EMPOWER A FAST-GROWTH BUSINESS
The noble cause and state-of-the-art platform convinced investors, including Eurazeo, to support the future development of Kolleno. In the Fall of 2021, Kolleno raised £4m in seed funding led by Eurazeo and other investors.
"The B2B payments market is far bigger than the B2C. However, the level of digitalization in the B2B sector is lagging behind. That is why we are excited to invest in Kolleno - I firmly believe that the biggest opportunities in the B2B payments sector are yet to come", says Chloé Giard, investment director at Eurazeo, the lead investor in the round.
As a value-add investor, Eurazeo has introduced Kolleno to business angels, seasoned fintech entrepreneurs, experts in Sales & Marketing to get best practices to scale from seed to Series A, and also helped them to recruit key hires, with a growing team that has expanded to nearly 20 employees since funding.
BUILDING A GLOBAL LEADER IN FINANCIAL OPERATIONS TRANSFORMATION
Today, Kolleno is expanding its global presence and is adding more capabilities to the platform to become the number one Accounts Receivable automation platform. In just over 18 months of operation, the company has expanded its client base across 3 continents, serving clients from various sectors in Europe, Africa and North America. By creating an all-in-one platform and centralising account receivables management and credit collections, Kolleno is transforming the cash collection industry, digitalising B2B payments for SMEs and corporations, and helping to transform a previously underserved global market.
Chiffres Titre

In figures
Chiffres Description
£4 million in seed funding
Active across 3 continents - Europe, Africa and North America
Nearly 20 employees across the globe
More than 170,000 invoices processed since inception
Image
Image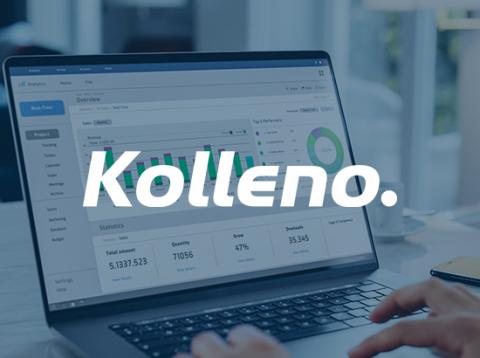 Informations
Financial platform designed to help with credit control, payment and collection services for SMEs
Sector

Secteur

Financial Services