A KEY PLAYER IN EUROPE AND LEADER IN FRANCE FOR SPECIALIST PRODUCTS FOR HOME CARE AND PROTECTION AGAINST INSECTS
Altaïr was established in France in 1946 and has blossomed into a top-tier player in Europe for the sale of specialist home-care products and insect protection solutions. It is in a resilient sector that has been growing steadily for 20 years, and it is expanding non-stop.
Description
It has diversified geographically, broadened its product ranges and distribution channels, and is centered around strong brands with distinctive personalities and solid positions in a specific segment of the European market for home care products:
Specialist brands for expert products, namely Starwax, Kapo and Sinto, and everyday products, namely Briochin (effective, authentic, natural products), Oro (a generalist brand), Mistol (tableware care) and Tenn (surface care).
The Altaïr group is principally active in France and Spain but sells its products in 50-plus countries and employs approximately 400 people. Its revenue in 2021 exceeded €160 million and it continues to make acquisitions not only to enlarge its choice of products and geographic wingspan but also to bolster its position as independent leader in traditional Made in France household supplies.
THE BIRTH OF AN INDEPENDENT LEADER IN AN UNMATCHED POSITION
It was in 2021 that Eurazeo successfully completed the acquisition process and became this group's majority shareholder.
Eurazeo's Small-Mid Buyout team, Altaïr's CEO Etienne Sacilotto and his management team are all intent on fast-tracking the group's growth in Europe by both pushing its longstanding brands and rolling out an active buy-and-build policy while supporting the group's development by vigorously backing its existing CSR initiatives.
Altaïr has been growing externally for a long time. These acquisitions have significantly widened its product range and its distribution network.
It pushed ahead in the same direction in 2021 when it bought a minority interest in startup What Matters (it completed the process in 2022). What Matters sells beauty and home care products and its DNA is a perfect fit for Altaïr's strategy: both have strong CSR commitments, sharp digital expertise and Made in France products. Altaïr also acquired Tenn, to solidify its operation in the Spanish market and enrich its range of products, and Briochin, a French leader for authentic home care products that it sells to a loyal customer base through food retailers. Briochin's products have built an excellent reputation on the strength of their quality, natural ingredients and, in many cases, eco-certification. Altaïr and Briochin share the same values including uncompromising quality, respect for traditional crafts and commitment to sustainability.
Both are riding the DIY wave and surge in demand for home care products sparked by Covid. Altaïr's and Briochin's products converge, their distribution circuits complement each other—Altaïr mostly sells through specialist retailers (DIY superstores, garden centers, etc.), Briochin through supermarkets and hypermarkets (more than 7,500 in France), and their export networks tally nicely.
With these moves, backed by Eurazeo, Altaïr has taken a new leap forward in its development. These strategic acquisitions are part of the group's growth drive, which will generate more than €160 million in consolidated revenue in 2021 from an enhanced portfolio of brands and product categories. These operations are in particular strengthening its position in the attractive market segment covering authentic, eco-certified products, and the possibilities for synergy are considerable.
A COMMITTED AND RESPONSIBLE GROUP
After building its know-how over 70 years, Altaïr is packing its proven expertise into a comprehensive range of products acclaimed for their outstanding quality, efficiency and safety, and into its innovative drive. And Altaïr is harnessing innovation in its products with a focus on responsible expertise.
Anticipating consumers' needs, Altaïr has set up an ambitious in-house R&D program, is working thoroughly on the regulatory aspects and is rolling out an ESG policy with detailed and measurable objectives looking at 2025. The group's products comply with regulation because it selects the most efficient and effective chemical or natural molecules and systematically replaces any CMR (carcinogenic, mutagenic and reprotoxic) substances out of respect for consumers and the environment.
Altaïr, which ranks CSR among its priorities, is lastingly committed to the environment and permanently monitors its emissions to minimize its impact on the air, soil and water.
Chiffres Description
2021 Eurazeo became Altaïr's majority shareholder
400 employees
Exportations to more than 50 countries
Image
Image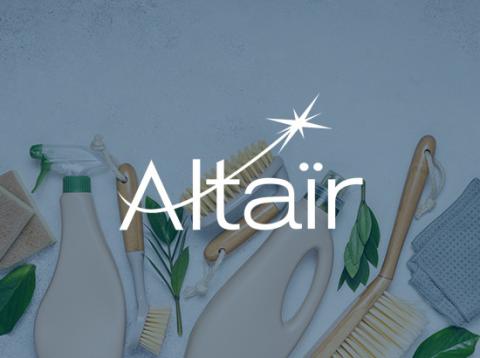 Société Titre

Groupe Altaïr
Informations
Leader français des produits spécialisés pour l'entretien de la maison (Starwax, Kapo, Sinto, Oro, Mistol)