Asset management continues to grow in Q1 2022
Assets Under Management (AUM): €32.2bn (+41.5% over LTM)
Limited partner fundraising: €878m at end-March versus €785m in Q1 2021
Management fees: €82m in Q1 2022, up 34%1 on Q1 2021
Robust portfolio performance
Portfolio economic revenue up 31% in Q1 2022 year-on-year at constant Eurazeo scope and exchange rates
Revenue around 50% for Growth companies (not consolidated)
Successful deployment and asset rotation
€1.7bn deployed (€1.1bn in Q1 2021), including €1.2bn in Private Equity and Real Assets, and €0.5bn in Private Debt
Further asset realizations under good conditions (€0.4bn realized in Q1, plus signed transactions totaling €0.8bn to be completed in the near future)
Significant financial leeway €4.7bn of Dry Powder and a strong balance sheet
Attractive shareholder return
Payment on May 4, 2022 of a dividend of €3 per share voted by shareholders on April 28, 2022, representing a total dividend distribution of c. €230m
Launch of a €100m share buyback program
Next steps toward net carbon neutrality
Validation of the decarbonization pathway by SBTi at Group and portfolio level
Strengthened management of portfolio company decarbonization plans
Virginie Morgon, Chairwoman of the Executive Board, stated:
"Eurazeo's continued growth in Q1 2022, in a particularly volatile context, reflects the strength of our model. It was achieved thanks to our diversification strategy, global platform, and innovation culture that position us in the most buoyant asset classes and sectors. Whether in healthcare, services, digital or the green economy, our investments are based on a sustainable growth momentum that also makes us highly attractive. Confident in the relevance of our strategy and the quality of our assets, we are today launching a share buyback program and we confirm our ambition to double our assets under management in the medium-term." 
1. ASSET MANAGEMENT ACTIVITY
A. ASSETS UNDER MANAGEMENT
As of March 31, 2022, Eurazeo Group Assets Under Management (AUM) totaled €32.2bn, up 41.5% over 12 months and 4% on end-2021.
AUM comprise capital managed on behalf of limited partner (LP) of €22.7bn, up 42% on a 12-month rolling basis and 5% over three months, as well as the Group's permanent capital (Net Asset Value, NAV) of €9.4bn. It is recalled that, in line with our methodology, unlisted assets, which currently comprise all assets on the Group's balance sheet, are not revalued quarterly in NAV2.

B. FUNDRAISING
Over the past 12 months, the Group has raised €5.3bn from limited partners, reflecting the appeal of the Group's fund offering in private markets. In Q1 2022, the fundraising was €878m (€785m in Q1 2021), with significant amounts raised in the Venture, Biotech and Buy-out sectors including the closing of MCH VI (c.€400m) and Rhône VI (€2.1bn). PME IV will close at c.€1bn in H1.
Individual investors continue to favor the wealth management solutions offered by the Group, in particular the Entrepreneurs Club and Private Value Europe funds, with around €100 million raised from this clientele in the first quarter.

C. ASSET MANAGEMENT REVENUE
Management fees totaled €82.3m in Q1 2022, up 34% at constant scope and exchange rates4 :
i) management activities for limited partners increased +45% to €62.9m, driven by the fundraising dynamic;
ii) management fees calculated on Eurazeo's balance sheet totaled €19.4m, a limited increase (+7%) due to recent realizations.
Realized performance fees were negligible during the period in the absence of any major exits in the quarter. They will materialize over the year when the planned realizations are completed.

2. PORTFOLIO REVENUE
Portfolio economic revenue on the balance sheet increased 31% in the first quarter 2022, at constant Eurazeo scope and exchange rates. All of the Group's strategies reported growth in the quarter. Travel and leisure companies are experiencing a strong rebound in activity. Portfolio growth outside these sectors is very dynamic at +17%.
The Growth portfolio, not consolidated, reported weighted average revenue growth around 50% for the three-month period.
The good performance of the portfolio companies in the first quarter reflects the relevance of Eurazeo's sector choices. In a volatile economic environment, the Group benefits from a diversified, high-quality portfolio positioned in structurally buoyant segments such as healthcare, business services, digital, strong consumer brands and the energy transition.
REVENUE BY INVESTMENT DIVISION

3. ASSET ROTATION
In Q1 2022, the Group deployed €1.7bn (including €0.6bn for Eurazeo's balance sheet) compared with €1.1bn in Q1 2021. Deployment focused on structurally buoyant sectors where Eurazeo has recognized expertise such as healthcare (Cranial, Horus Pharma), digital (DiliTrust, BackMarket), and sustainable infrastructure (Ikaros).
Realizations continued under good financial conditions, totaling €0.4bn for the quarter. They will be further strengthened in the coming months, notably with transactions already signed such as Reden Solar and Orolia of a combined amount of nearly €0.8bn, mainly for the Eurazeo balance sheet.
A breakdown of deployment and realizations is shown in Appendix 2

The Group has substantial financial leeway to continue deployment:
- undrawn limited partner commitments (Dry Powder) of €4.7bn
- a strong Eurazeo balance sheet: the Group has limited net debt as of March 31, 2022 of €0.2bn, i.e. c. 2% of Net Asset Value. Restated for the divestment of Reden Solar and Orolia, the dividend paid and the share buyback program announced today, Group net cash would be c. €200m.
- a confirmed revolving credit facility (RCF) of €1.5bn.
4. SHAREHOLDER RETURN
The Shareholders' Meeting of April 28 confirmed the Executive Board's proposed payment of a dividend of €3 per share, (i.e. an ordinary dividend of €1.75, an increase of 17%, plus a special dividend of €1.25), representing a total distribution of c. €230m.
The Executive Board decided to launch today a €100m share buyback program, with cancellation of the shares repurchased. This program is a sign of management's confidence in the Group's prospects and the assets' value, and will be accretive for shareholders. In addition, the Group will buy back shares to cover the Long Term Incentive Plans (LTIP).
5. ESG COMMITMENT
Validation of the decarbonization trajectory by SBTi
Building on nearly 20 years' experience in sustainable development, Eurazeo was the first Private Equity player in Europe to commit, as of 2020, to defining its decarbonization trajectory in line with scientific recommendations to achieve the Paris Agreement objective. The Group's carbon reduction targets were validated in early 2022 by the Science Based Target initiative (SBTI) and reflect the following ambitions:
At Group level: 55% reduction in greenhouse gas (GHG) emissions by 2030 (from a 2017 base year)5
At portfolio level: 100% of eligible portfolio companies setting SBTi-validated decarbonization targets by 2030 and 25% by 20256
Eurazeo is developing a range of services and a network of partners in different fields (procurement, green energy suppliers, dedicated training courses, etc.) to support portfolio companies in their decarbonization approach.
Enhanced carbon reporting
Eurazeo has also created an innovative carbon module to help strengthen carbon reporting by portfolio companies comprising:
A carbon footprint assessment covering scopes 1, 2 and 3 for 100% of portfolio companies7
A decarbonization pathway simulation tool aligned with the Paris Agreement objective
An estimate of the potential carbon cost associated with this trajectory in the event the company is exposed to regulatory carbon pricing.
6. OUTLOOK
Eurazeo has reported a good quarter across all aspects of its business: fundraising, management fees, asset rotation and portfolio performance, despite a volatile and uncertain economic environment. This performance confirms the Group's growth momentum, the relevance of its allocation choices and its solidity.
Strengthened by its position in the alternative investment sector which continues to be driven by favorable structural trends, Eurazeo confirms the outlook announced on March 10, 2022, upon presentation of its annual results and notably the doubling of assets under management, which could reach €60bn in 5 to 7 years, and an increase in the FRE margin in the medium-term to 35-40% from around 30% in 2021.
7. SUBSEQUENT EVENTS
At the end of April, Eurazeo announced the completion of a minority investment in Gisou, a high-growth premium brand offering an authentic bee-based approach to beauty alongside its co-founders, who remain majority owners, and Vaultier7, the current minority shareholder.
Eurazeo announced that its Eurazeo Sustainable Maritime Infrastructure (ESMI) fund has already secured €200m, more than half of the target fund size, and has completed its first transaction by financing a jack-up vessel.
Eurazeo launched the European Real Estate II ELTIF8 fund. Whilst the unlisted real-estate market has typically been reserved for institutional investors, II ELTIF facilitates the investment opportunity for individual investors. The fund's strategy is at the crossroad of private equity and real estate. We carry out high-value-added real-estate transactions in Europe and provide funding to companies that own and operate their own real estate assets.  
APPENDIX 1: DEPLOYMENT ACTIVITY
A. PRIVATE EQUITY
Deployment Private Equity deployment activity was sustained in the first three months of the year, totaling €1.1bn (including a Eurazeo balance sheet share of €0.5bn):
- Mid-large buyout: The Group acquired a majority stake in Cranial (the market leader in treating infant plagiocephaly) and supported Questel in its development through an external growth transaction.
- Small-mid buyout: The Group announced the signature of an exclusivity agreement with a view to investing in DiliTrust (a unified and secure platform, composed of different modules to meet growing management digitalization needs). The Group also continued to support its portfolio companies (2 ride, Group Premium, Vitaprotech and Altaïr) and completed four external growth transactions.
- Growth: In January, the Group acquired a stake in Fever (events and attractions platform) and Descartes (a provider of parametric insurance to cover against natural disaster risks). In February, the Group invested in Alma (a platform for paying in several installments for e-merchants).
- Venture: In January and February, the Group made three new investments in Pretto, Fintecture and Ondorse.
- Nov Santé: completed its fourth transaction and finalized its investment in Horus Pharma, a French pharmaceutical laboratory specializing in ophthalmology.
Realizations
The Group realized €261m of Private Equity assets in the first three months of 2022, including €16m on the balance sheet.
Several realizations have been signed and/or completed since the beginning of the year:
- Small-mid buyout: Signature of an agreement with a view to the sale of its majority stake in Orolia (world leader in R-PNT solutions and applications). This transaction will generate a cash-on-cash multiple of 3.6x and an Internal Rate of Return (IRR) of around 25% for Eurazeo.
- Growth: Sale of Tink (European open banking platform) generating an IRR of 100%.
- Venture: realization of Frichti, Tanker and Cardiologs
B. PRIVATE DEBT
Deployment and realizations
Deployment during the three months totaled €498m and realizations totaled €165m.
C. REAL ASSETS
Deployment In the first quarter of 2022, the Group acquired stakes in light industrial assets near London, in six commercial complexes in Berlin, as well as in a Hotel in Bordeaux. Eurazeo Real Assets also concluded its first investment in joint-venture with PSP Investments: FST Hotels, a Spanish hotel group with 5 hotels mainly based in Madrid and Barcelona. The Group also completed two external growth transactions to accompany Reden Solar (currently being sold) and Dazeo (investment in a group of hotels in Spain).
Realizations
In Q1, Eurazeo has reached an agreement to sell its stake in Reden Solar. Based on a €2.5bn Enterprise Value, the sale would generate for Eurazeo proceeds of €632M, or a 4.3x Cash-on-cash multiple and an IRR of c.42%.
APPENDIX 2: STRATEGIC PARTNERSHIPS
iM Global Partner (AUM not consolidated)
It is recalled that, iM Global partners assets are not included in assets under management published by Eurazeo.
The Assets Under Management of iM Global Partner (IMG share) total US$37.0bn at the end of March 2022, up 83% on March 2021. This growth is due to the outperformance of its affiliates, steady high fundraising momentum and the acquisition of 100% of Litman Gregory, as well as deals to acquire 45% of Richard Bernstein Advisors and 42% of Asset Preservation Advisors and the acquisition by its partner, Polen Capital, of DDJ Capital. Assets Under Management are down 4.8% on the end of 2021 in the current uncertain macro-economic environment. In comparison, total US mutual fund assets decreased by 6.1% over the same period (source: Refinitiv Lipper), highlighting the resilience of the iM Global Partner model in this environment. iM Global Partner assets under management are not included in Eurazeo Group published AUM.
Rhone Group (8% of AUM)
During the quarter, Rhône closed Fund VI with €2.1 billion in total commitments, including €240 million in committed co-investment capital.
MCH Private Equity (1% of AUM)
During the first quarter of 2022, the MCH fund portfolio did not complete any deployments or realizations.  
APPENDIX 3: FEE PAYING AUM

APPENDIX 4: ASSETS UNDER MANAGEMENT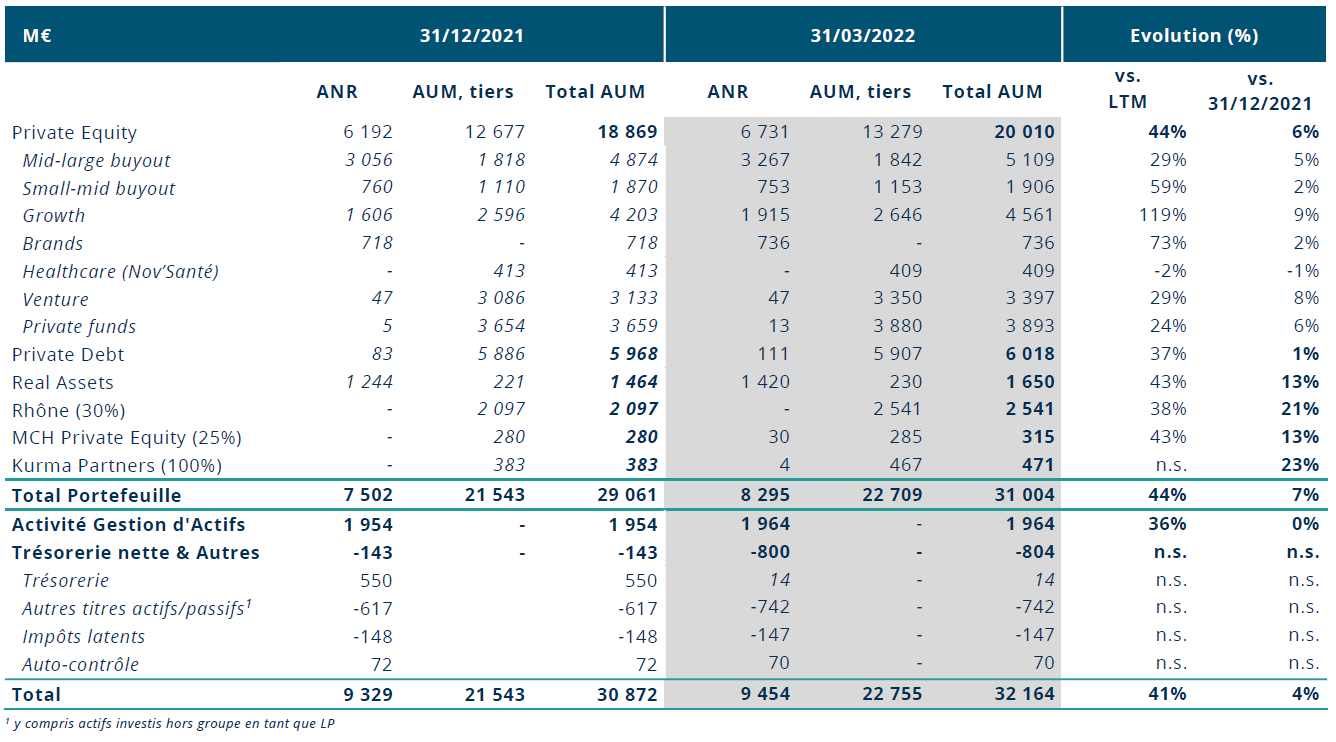 ---------------------
1 At constant scope and exchange rates. +38% on published data.
2 The difference in NAV between 31 December 2021 and 31 March 2022 is due to value adjustments when certain transactions unwound
3 Excluding Eurazeo's commitments in the Group's programs
4 +38% as reported with the first integration of Kurma Partners and the strengthening of the US dollar
5 Scope: Eurazeo direct sources of emissions (Scopes 1 and 2).
6 Scope: Eurazeo indirect sources of emissions making a significant contribution to GHG emissions (Scope 3). For eligible investment activities: Private Equity and Real Estate.
7 Excluding Private Funds Group.
8 Fund managed by EFML.
Eurazeo financial timetable
| | |
| --- | --- |
| 27 July 2022 | H1 2022 results |
| 8 November 2022 | Q3 2022 revenue |