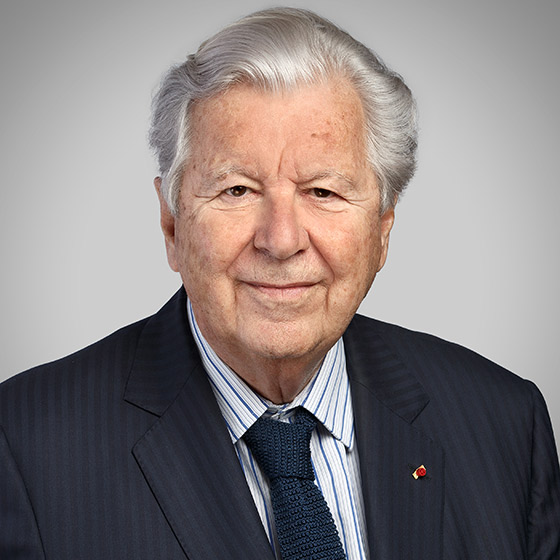 Corps
Bruno Roger has been Managing Partner of Lazard since 1978 and was Vice-Chairman and Executive Director (2000-2001) and Chairman (2012-2017). He was Managing Partner of Maison Lazard et Cie (1976), of
Lazard Partners Ltd Partnership (19841999), Managing Partner (1992) then Managing Director (1995-2001) of Lazard Frères and Co, New York, Co-Chairman of the European Advisory Board of Lazard (20052006), Chairman of Lazard Frères SAS and Compagnie Financière Lazard Frères SAS (2002-2017) and
Chairman and CEO of Lazard Frères Banque (2009-2017). He is currently Honorary Chairman of Lazard Frères Banques (since 2017). He is Chairman of Global Investment Banking at Lazard Group (since 2005) and Managing Director and Vice-Chairman of Lazard Group.
After serving as Vice-Chairman and Chief Executive Officer of Eurafrance (1974-2001), Chairman and Chief Executive Officer of Financière et Industrielle Gaz et Eaux then Azeo (1990-2002), he was Chairman of the Eurazeo Supervisory Board (2002-2003) then Honorary Chairman.
He was member of the Supervisory Board of UAP (now AXA) (1994-2005), Pinault-Printemps (1994-2005), Director of Capgemini (1983-2018), Saint-Gobain (1987-2005), Thomson CSF (now Thales) (1992-2002), Moët Henessy then LVMH (1987-1999), Pechiney (1986-1988), Sanofi (1975-1983), Sofina (1989-2004), Marine Wendel (1988-2002), SFGI (1987-2001), Sidel (1993-2001), PSA Finance, Immobilière Marseillaise
(2002-04), non-voting member of Compagnie de crédit, Vice-Chairman and member of the Supervisory Board (1974) of Crédit mobilier industriel Sovac, Director (1966-73), then Chairman and Honorary Chairman of the Société française des Analystes financiers.
He was Chairman of the Martine Aublet Foundation, co-founder of the Centre de formation à l'analyse financière (1967), founder of the magazine Analyse Financière (1969), Honorary Chairman of the International Festival of Lyric Art in Aix en Provence (Chairman from 2005 to 2018).
He was a senior lecturer at the IEP in Paris (1964-68), Director of Médecins sans Frontières, Sciences–Po Aix en Provence (2012-16), a member of the Board of Directors of the Société des Amis du musée National d'Art Moderne and the Société des Amis du Centre Pompidou and Director then Chairman
(2013-15) of the Musée des Arts Décoratifs.
Bruno Roger is a graduate of the Institut d'Études Politiques (IEP) in Paris.